Franck Muller watches are one of the finest and most complicated of the world. The manufacture was founded in Geneva by Franck Muller and Vartan Sirmakes with the aim of creating exclusive timepieces characterised by complicated movements and original designs. Thanks to its strong in-house capabilities in numerous fields of Haute Horlogerie, this young company rapidly became one of the best Swiss horlogerie brands. Today, we believe we succeeded in combining boldness and creativity with exceptional Haute Horlogerie know-how.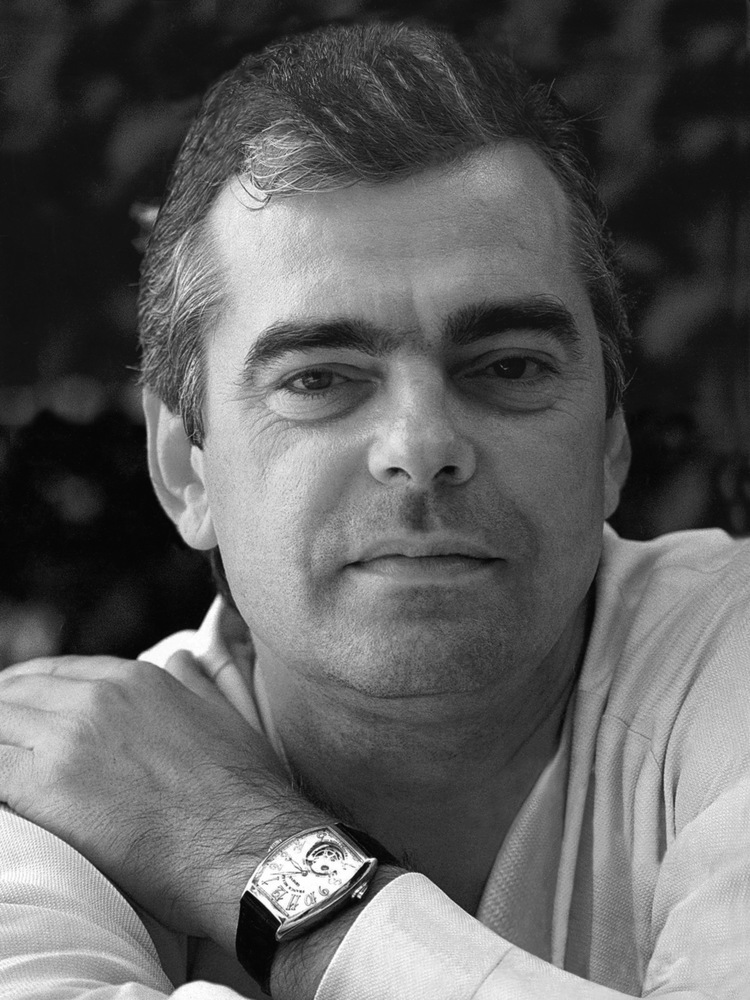 FRANCK MULLER ; Born in Switzerland on July 11th 1958, of an Italian mother and a Swiss father, Franck Muller was raised in a multicultural environment and inherited both creativity and discipline. From a very early age, he developed a growing interest for all mechanical devices.
After 4 years of remarkable studies at the Geneva School of Watch Making, it did not take long before his reputation was made: gifted with exception technical talent, auction houses and collectors from all over the world sent him their treasures for restoration.
After a few years in the field, he started creating unique timepieces under his own name. Franck Muller aimed at changing the situation (influx of quartz watches in the market) decided to devote his work to the creation of unique timepieces, wristwatches in particular, that offer the same level of technical achievement presented in pocket watches.
In 1983, after months of research and dedication, Franck Muller presented his first wristwatches. They all had a complicated movement that had been created solely by himself. He realized that there was a demand in the market for collectors in search of unique timepieces.
In order to meet that demand, every year since then, he has succeeded in unveiling a World Premiere, assembling complications that have never been created before. Franck Muller recognized very early on that the Tourbillon was an important scientific invention. It was created over 200 years ago in an attempt to achieve greater accuracy for timepieces. Franck created, for the first time ever, a Tourbillon visible from the front. Contrary to all other brands Tourbillons in which it could only be seen from the back. His revolutionary new design and subsequent Grand Complications became the cornerstone for Franck Muller being recognized as the "Master of Complications".
World Premieres
Franck Muller showed his gift for creativity from a very young age. As a matter of fact, this watchmaking genius has regularly come up with World Premieres since 1986.  These watches were high complications that had never been made in the history of watchmaking.  Franck was working on these marvels in the old way, making and adjusting each component by hand and by himself, therefore the production was limited to three or four pieces a year.  Whether it was a Tourbillon with jumping hours in 1986, a Tourbillon with Minute Repeater in 1987, or an inverted Tourbillon Perpetual Calendar with Minute Repeater in 1989, everyone was amazed by these complications.
Until 1992, the year when the brand and the workshop were founded, these marvels were produced by Franck Muller himself and were registered under the Franck Genève brand.  Since 1991, these products have been created under the Franck Muller Genève brand.  From the triple axis Tourbillon to the most complicated watch in the world, the Aeternitas Mega, Franck Muller created exceptional timepieces that left his hallmark in the story of Swiss watchmaking forever.
Thus, Franck was keen to experiment and create new concepts in a conservative industry where tradition was valued over change.  Consequently, in 2003, Franck Muller introduced a totally innovative approach to the very notion of time.  In fact, the Crazy Hours established a new philosophy and proclaimed independence from the established order.  This extraordinary model displays numerals in complete disorder while still keeping perfect time thanks to a jumping hour mechanism. This emotional complication quickly became one of the most emblematic timepieces of Franck Muller.
In 2004, after years of development, Franck Muller revolutionized the watchmaking industry by making the very first tri-axial tourbillon in the world.
The Revolution 3 offers an exceptional technical spectacle as well as emotions only to be found at Franck Muller.  This 3 axis Tourbillon corrects the forces of gravity in all positions, contrary to a classic one which only compensates when the wristwatch is in a vertical position. This stunning complication is the result of one of the most complex creations in Haute Horlogerie.  To this masterpiece, we added a Perpetual Calendar, pushing this complication even further, the result being the Evolution 3.1.
In 2007, after 5 years of research and development, Franck Muller presented a spectacular masterpiece:  The Aeternitas Mega.  This unique piece is part of the history of fine watchmaking as the most complicated watch in the world.  With 36 complications and 1,483 components, the Aeternitas Mega is a wonder of micro-mechanics and watchmaking know-how.
In 2011 Franck Muller created the Giga Tourbillon, the world premiere featuring the biggest tourbillon ever incorporated in a wristwatch.  This Tourbillon is absolutely massive.  It is twice as big as a regular tourbillon, its cage measuring 20 mm in diameter and filling half of the watch.  This unique achievement was bound by many technical difficulties and is once again the testament of the exceptional in-house capabilities of the workshop.
These unique complications required years of development, tests and adjustments.  They testify the incredible know-how of the manufacturer, strengthening its name of Master of Complications.  In October 2002, Franck Muller was granted the first prize of the Genève Watchmaking Grand Prix.  This exclusive prize was the recognition of the watchmaker's exceptional talent and the immense expertise of the manufacturer.
Unique Design
Since the 1980s, Franck Muller has become a name synonymous with beautiful finishing and unique designs.  Throughout Haute Horlogerie and high complications, Muller has tied his name to a brand that has established a series of exceptional timepieces that, while originally avant-garde, have become embraced and often copied.
From its creation, the Cintrée Curvex case was very unique.  Indeed, the Haute Horlogerie was bound by tradition and consequently not very open to innovation, especially in terms of design.  At the time, there were plenty of round watches and perhaps a few rectangular ones, but there was nothing like Franck Muller's Curvex.  So it was a bold move to introduce, in 1992, something previously nonexistent on the market; a tonneau curved body in 3 dimensions involving great technical difficulties in manufacturing.
Thus, Franck Muller watches became easily identifiable due to their tonneau shape that is commonly recognized as the brand's most significant silhouette. 
For the brand, it quickly became a great success and a way to express its unique identity, assert its DNA and demonstrate its know-how in case manufacturing.
Similarly, Franck Muller timepieces became instantly recognizable for their unique and beautiful numeral design.  The dials on our Cintrée Curvex models are also very complex to produce.  For example, they must be perfectly curved to follow the shape of the case, but must still have the best guilloche, printing quality and precision.  Introducing dials in gorgeous vibrant colors such as royal blue was also initiated by Franck Muller and showed all the hallmark of a classic Franck Muller design.
With its elegant cases, stunning dials and highly-complex movements, Franck Muller is very proud of all its timepieces. They really are great examples of clean and sober designs that have timeless elegance.
Master of Complications
All the mechanical watchmaking complications invented by Franck Muller are designed and developed at the heart of our own workshops.  From the simple sketch of a world premiere mechanism to the execution of the plans, via the construction of a prototype, right through to monitoring the production — every stage of manufacturing a watch is followed to its successful completion.
Thanks to its incredible in-house capabilities, the brand can push barriers of watchmaking even further with innovative complications and great technique whilst fully respecting the Swiss watchmaking tradition. Indeed, producing innovative and reliable complications requires tremendous know-how and teams of highly skilled craftsmen.
A Franck Muller complicated movement ranges from between 200 and 1,483 components for the most complicated one, which takes years from its conception until completion.
For more than fifteen years, the Franck Muller patents have played an important role in the company's international reputation, leading an exceptional and unique career at the heart of the prestigious watchmaking adventure.  In October 2002, Franck Muller was granted the first prize, men's category, of the Genève Watch Making Grand Prix.  This exclusive prize was the recognition of the watchmaker's exceptional talent and the immense expertise of the manufacturer. 
Noble Art
Passion, precision and innovation are the three essential qualities that highlight the creative genius of Franck Muller.  For over twenty years, the history of our watches has been marked by innumerable masterpieces and collections giving a contemporary style and spirit within the legendary universe of the Art of Watchmaking.
In the workshops of Franck Muller Watchland, the watchmakers have the privilege of assembling the movement in its entirety.  It is important that each part is given the individual attention it requires so that every wristwatch leaving Genthod workshops passes the test of time with distinction and that the excellence of the art of watchmaking may be passed on from generation to generation.  Many artistic crafts are essential to watchmaking and, in Fine Watchmaking, respect is shown for perfect mastery of them.  Franck Muller continually strives to perfect and extend his research into every single watch component, constantly refining the essential link between cutting-edge techniques and traditional craftsmanship.
As such, Franck Muller engraving workshops perpetuate this traditional craft, favoring ancestral expertise by respecting entirely hand work, with no intervention other than the talent of the artist and his tool.
Every component becomes "the" showpiece of the watch when one contemplates the beauty and precision in the creation and decoration of every part.  The degree of hand finishing and hand craftsmanship on Franck Muller watches and their grand complications are exemplary within the industry.  The care, patience and attention given to each component is tremendous.  An artisan decorator is sometimes required to work 20 hours on a single component.  Even if the components will not be visible, it is very important that the beautiful movement looks as beautiful inside as outside.  This level of care is what gives to the Franck Muller timepieces their identity and their infinite value.